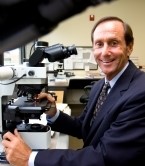 Dermpath Diagnostics is excited to announce the return of the 33rd annual Barron Core Exam, previously known as the Barron Board Review.
Dr Dave Barron, a dermatopathologist for more than 4 decades, brings his extensive knowledge and experience to help derm residents pass their board exams.
He has hosted 32 board reviews to date, for more than 6,000 residents. To the best of our knowledge, every attendee of the Barron Board Review has passed their board exam.
Due to the recent changes made to the certification process the course has been expanded to include all dermatology residents and is no longer restricted to 3rd year dermatology residents.
---
Barron Core Exam
The new digital format consists of 194 comprehensive cases, including most of the diagnoses you might see on the exam. The timed self-review is available digitally through PathPresenter the week of the course to accommodate your daily residency schedule and allow for more flexibility.
---
Case Review
Dr Barron will then virtually review and discuss each of the 194 cases in full detail through a digital slide show. Dave will provide helpful tips that he finds useful when diagnosing skin disorders.
---
2022 Dates
Timed Self Examination through PathPresenter:
Friday, June 3, 2002 – Friday, June 10, 2022
Virtual live didactic session:
Saturday, June 11, 2022 – 10:30am EST – 5:00pm EST
Sunday, June 12, 2022 – 10:30am EST – 5:00pm EST
*With live Q&A at the end of each day.
---
LOCATION
Virtually via Zoom, calendar invite will be sent out on Thursday, June 2, 2022
---
REGISTRATION FEE
The course fee is $325.00.  Please pay online via PayPal.
You are highly encouraged to pay your course fee within two weeks to officially confirm your seat. If your institution is paying for your registration, it is your responsibility to ensure that the course fee has been sent within the two week time frame. If your institution cannot meet this timeline, it is your responsibility to pay the fee online and have your institution reimburse you.
Please contact Emily Chevalier at 1.800.541.8531 with any questions concerning the course.