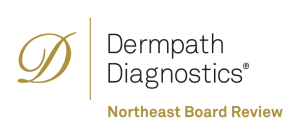 11th Annual Dermpath Diagnostics Northeast Dermpath Review
May 18th – 19th, 2019
Dermpath Diagnostics is pleased to announce the 11th Annual Northeast Dermpath Review. The Northeast Dermpath Review is open to all 2nd and 3rd-year dermatology residents. This is a dermatopathology slide review for dermatology residents. Following a timed, mock slide examination, each case will be reviewed by nationally-recognized experts in dermatopathology.
Course Director:
Michael K. Miller, MD – Medical Director
Hosted By:
Jason A. Cohen, MD – Managing Director, New York
Damian DiCostanzo, MD
Edward R. Heilman, MD
Patricia Heller, MD
Eun Ji Kwon, MD
Bonnie Lee, MD – Managing Director, Ackerman Academy of Dermatopathology
Kenneth Shulman, MD
Naghmeh Yousefzadeh, MD
Time:
Saturday, May 19, 2019
8:00AM – 5:00PM
Sunday, May 20, 2019
8:00AM – 5:00PM
Location:
New York Marriott Marquis
1535 Broadway
New York, NY 10036
Course Fee: 
The course fee is a $150 which includes microscope rental and lunch. The fee does not cover lodging or airfare. Please make check  payable to: DERMPATH DIAGNOSTICS
All no-shows for the course will have their $150 check cashed to cover course expenses (microscope, rental and food). *Refunds for cancellations will not be given after May 1st. 
Please mail checks to:
Dermpath Diagnostics New York
Attn: Virginia Romero/NEBR
100 Midland Avenue
Port Chester, NY 10573
Please contact Michael Handley at MHandley@DermpathDiagnostics.com  with any questions concerning the course.