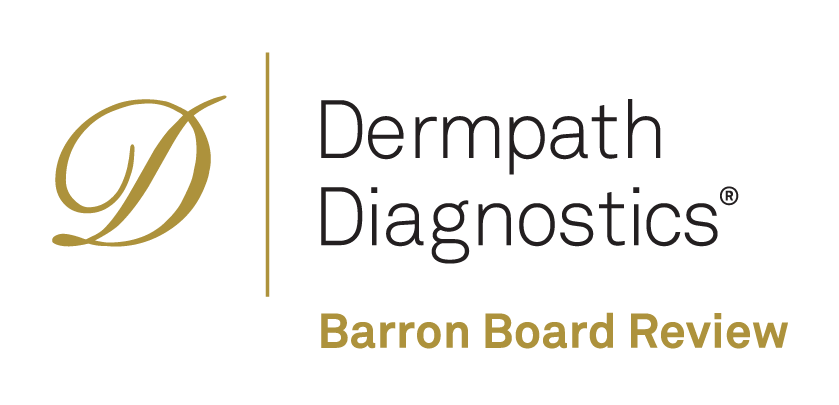 As a healthcare organization, Dermpath Diagnostics focus is always on the health and safety of our employees, customers and communities. With the evolving situation in Illinois and as of Tuesday, May 5 Illinois Governor JB Pritzker announced his administration's plans to safely reopen the state. Unfortunately, any large venues will not be able to open by the time of the 2020 Barron Board Review Course in June. For the first time in over 30 years, I regretfully have no choice but to cancel the course.
Due to time constraints and the nature of the course, I am unable to transition to a digital online platform before the July exam. We are evaluating options for 2021 and will adjust the course offerings to address the new board exam format.   
As a reminder, we have several online dermatopathology resources available to you at: www.DermpathDiagnostics.com/DermpathUniversity
Thanks for your patience and understanding during this difficult time we are all witnessing.
Sincerely,
– David R. Barron, MD
---
Dermpath Diagnostics is pleased to announce the 33rd Annual Barron Board Review to be offered to all third year dermatology residents and attending dermatologists who have not yet taken the American Board of Dermatology exam.
The Barron Board Review is only open to third-year dermatology residents and attending dermatologists who plan to take the 2020 American Board of Dermatology or the American Osteopathic Board of Dermatology exam.
Microscope Session
194 cases will be examined under the microscope. A multiple-choice exam will be supplied with similar time limitations given during the American Board of Dermatology exam. To meet the increasing demand of the Barron Board Review, two identical microscope sessions have been set up. Please note that you can only attend one of the microscope sessions.
Friday, June 12th, 2020 – Cancelled 
10:00 AM – 6:00 PM
Saturday, June 13th, 2020 – Cancelled 
7:30 AM – 3:30 PM
---
Case Review
Dr. Barron will then review and discuss each of the 194 cases in full detail through a digital slide show. Dave will provide helpful tips that he finds useful when diagnosing skin disorders.
Both microscope session groups will merge into one group for the Saturday and Sunday case reviews.
Saturday, June 13th, 2020 – Cancelled 
3:45 PM – 6:30 PM
Sunday, June 14th, 2020 – Cancelled 
7:30 AM – 4:30 PM
---
LOCATION
Donald E. Stephens Convention Center
5555 North River Road
Rosemont, IL 60018
---
REGISTRATION FEE
The course fee is $375.00 which includes microscope rental, continental breakfast and lunch. The fee does not cover lodging or airfare. Please make check payable to: David R. Barron or pay online via PayPal, there is a 3.1% service fee for using PayPal.  
Please send payment to:
Richfield Laboratory of Dermatopathology
Attn: Emily Chevalier / Barron Board Review
9844 Redhill Drive
Cincinnati, OH 45242
---
HOTEL ACCOMMODATIONS 
DoubleTree by Hilton O'Hare-Rosemont
5460 North River Road
Rosemont, IL 60018
1.800.756.5505
Click here for group hotel rate.
---
NEAREST AIRPORT
The local airports are Chicago O'Hare International Airport (ORD) or Chicago Midway International Airport (MDW)
---
Saturday Microscope Session seating capacity is limited. You are highly encouraged to send your online registration printout and course fee within two weeks to officially confirm your seat. If your institution is paying for your registration, it is your responsibility to ensure that the course fee has been sent within the two week time frame. If your institution cannot meet this timeline, it is your responsibility to send a personal check and have your institution reimburse you.
Please contact Emily Chevalier at 800.541.8531 with any questions concerning the course.