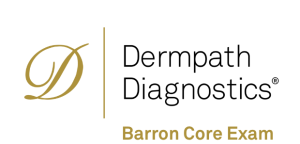 Dermpath Diagnostics is excited to announce the Barron Core Exam, previously known as the Barron Board Review. Due to unforeseen circumstances, the fall session has been cancelled. We are evaluating options for a spring session and will announce once a decision has been made.
The Barron Core Exam will be the same format as the Barron Board Review. The course has been renamed to align more closely with the American Board of Dermatology examination.
---
Barron Core Exam
Through PathPresenter, 194 cases will be available digitally the week of the course to accommodate your daily residency schedule and allow for more flexibility. The self-review will be timed.
---
Case Review
Dr Barron will then virtually review and discuss each of the 194 cases in full detail through a digital slide show. Dave will provide helpful tips that he finds useful when diagnosing skin disorders.
2022 Dates TBD
---
LOCATION
Virtually via Zoom, calendar invite will be sent out upon receipt of registration fee.
---
REGISTRATION FEE
The course fee is $375.00.  Please make check payable to: David R. Barron or pay online via PayPal, there is a 3.1% service fee for using PayPal.  
Please send payment to:
Richfield Laboratory of Dermatopathology
Attn: Emily Chevalier / Barron Board Review
9844 Redhill Drive
Cincinnati, OH 45242
You are highly encouraged to send your online registration printout and course fee within two weeks to officially confirm your seat. If your institution is paying for your registration, it is your responsibility to ensure that the course fee has been sent within the two week time frame. If your institution cannot meet this timeline, it is your responsibility to send a personal check and have your institution reimburse you.
Please contact Emily Chevalier at 1.800.541.8531 with any questions concerning the course.