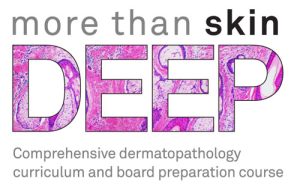 Due to the change in format of the American Board of Dermatology board exam, we have transitioned from an annual review course, formerly Dermpath Diagnostics Northeast Dermpath Review to a new monthly session, "more than skin DEEP" occurring on the 1st Tuesday of every month at 6:00PM EST.
Dermpath Diagnostics, a leader in dermatopathology, is now offering "more than skin DEEP," a monthly virtual prep course for dermatopathology board exams. The prep course covers the essential elements of dermatopathology—normal histology and anatomy of the skin, clinical terminology, histopathologic terminology, benign and malignant neoplastic diseases, malignant melanoma, and much more.
Led by Dermpath's highly-regarded dermatopathologists, this pre-board examination prep course will review both the routine, typical cases and the more esoteric and challenging inflammatory and neoplastic conditions.
Class size is limited. Register today!
Co – Course Directors:
Jason A. Cohen, MD – Managing/Medical Director – New York
Michael K. Miller, MD
Adnan Mir, MD
Additional Faculty:
Scott Diamond, MD
Damian DiCostanzo, MD
Edward R. Heilman, MD
Seth Wilentz, MD
Time:
6:00PM EST, every 1st Tuesday of the month*
*subject to change based on Holidays
Location:
Virtual
*Link and information will be sent the day before the session
Please contact Melissa Imperial at Melissa.N.Imperial@QuestDiagnostics.com  with any questions concerning the course.